A MIX OF DURABLE & DELICATE MOISTURE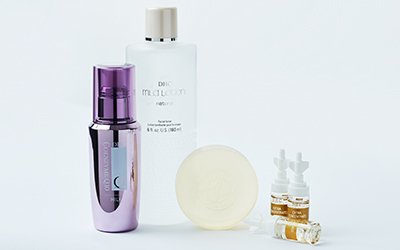 Olive Soap AM & PM
Fights premature aging as you cleanse. Packed with antioxidant-rich properties thanks to both olive oil and olive leaf extract, this beauty bar is ideal for normal to dry skin types. It's hydrating formual help skin that's suffered from years of sun exposure maintain its natural moisture level so there's no drying or irritation. Just happy, clean skin.
Mild Lotion AM & PM
Refreshes, balances, and calms. Even with a hydrating cleanser, skin needs a buffer between cleansing and moisturizing. That's where Japanese lotion toners come in. Mild Lotion features cucumber juice to cool and refresh while adding a light layer of moisture so your skin is more receptive to the ingredients in your moisturizer.
Delivers a dose of smoothing collagen. Serums are all the rage, and for good reason. Just like the name, Extra Concentrate is a concentrated formula of the powerful ingredients we love. This added application boosts the rest of your routine and gives your particular areas of concerns a little more attention.
CoQ10 Milk AM
Hydrates without the weight. CoQ10 is a free radical–fighting antioxidant that occurs naturally in the body; and as you age, your body produces less of it. By incorporating it into your skincare routine, you can help make up for that loss on the surface level. This hydrating daytime moisturizer provides age-defying firming action in a lightweight milk, the perfect balnace for normal skin types.
---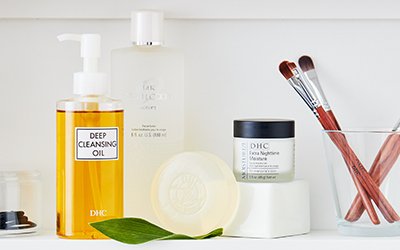 Resets skin before bed. Love that fresh feeling you get after waking up? You can thank your nightly cleansing routine for that. This oil-to-milk makeup remover hydrates skin with key ingredient olive oil so skin feels soft—never greasy—after rinsing.
Deeply hydrates as you sleep. Bedtime is the perfect time to get let your skincare really go to work. Extra Nighttime Moisture is formulated with a bevy of revitalizing botanicals and emollients to rejuvenate your skin overnight. Come morning you'll wake up to a soft and refreshed complexion.