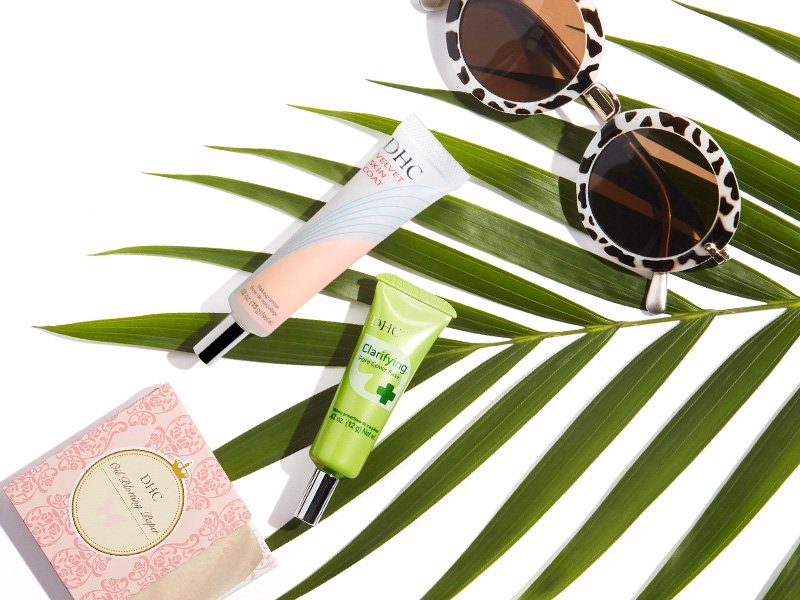 Weather conditions and the elements can take a toll on our skin in ways you wouldn't imagine. Using the right products for the day's climate is often the key to happy and healthy skin, every day.
Check out what the weather's like for you here!
Is it looking…
Sunny?
On a hot day, it's hard to stay picture-perfect. Our secret weapon for an all-day, shine-free face is Clarifying Pore Cover Base. Just smooth it on in the morning and go about your day. It keeps your makeup in place and zaps oil so you can enjoy the day with a fresh, matte look.
Another tip for a sunny day is to use a good toner in the morning, like our Mild Lotion II. Mild Lotion II's formula is fueled with flower power, featuring eight nourishing botanicals, to balance your skin's moisture level and keep your complexion from being overactive.
Partly Cloudy?
Partly cloudy weather can be unpredictable—but don't let that ruin your day. A powerful all-in-one moisturizer can be a great defense against fickle weather. Our recommendation? CoQ10 Quick Gel Brightening Moisture.
This fast-absorbing gel works as a primer, toner, brightener, moisturizer, and mask (by applying twice the normal amount). This gel can be a hydrating lifesaver on a dry and windy day. It's a go-to for those days where the weather can't make up its mind.
Cloudy Skies?
If you're dealing with cloudy weather, an alcohol-free toner is a great way to level out your skin's pH balance, and bring a healthy glow back to your face. Acerola Lotion is the perfect toner to brighten and prep your skin for your moisturizer and serums.
If there's a slight breeze headed your way, you might want to pack some backup moisture as chillier weather can dry out your skin. Our Olive Virgin Oil comes in a tiny travel size to moisturize your face and body on the go. No sun? No problem!
Humid?
Humidity can give your skin a glorious glow in the summer months—but it can also deplete your skin's natural moisture. And where there's humidity, there's bound to be sweat—a major factor in clogged, dirty pores—so be sure to blot and hydrate!
Our Blotting Paper is pocket-sized and perfect for a busy day. You'll be everyone's lifesaver when you pull these out of your bag! Acerola Gel is a great texture for a hot day. It works especially well if you're prone to blemishes, and it contains more vitamin C than an orange!
Whether it's hot or breezy, be sure to put any lost moisture back into your skin to keep it happy and glowing.